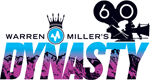 'Dynasty' Debuts From Warren Miller Entertainment; Here's The Schedule
Celebrate 60 years of filmmaking with Warren Miller's "Dynasty." Warren Miller is the most recognized name in skiing and Warren Miller Entertainment's newest offering takes you to the breathtaking mountains of China, Alaska, Norway, Colorado, British Columbia, and more. This year's movie is narrated by Olympic Champion Jonny Moseley.
The film will be in limited release across the United States, stopping for showings in 240 cities. The stops are the ultimate in "one night stands" and these annual premieres are an experience not to be missed. Check out the schedule below for the show stop nearest you. Remember, there's no ski or snowboard season until the new film from Warren Miller Entertainment comes to town.
WASHINGTON
Richland
WA
Richland High School
920 Long Avenue, Richland, WA, 99352
N/A
10/28
7:30
Yakima
WA
Capitol Theatre
19 South 3rd Sreet, Yakima, WA, 98901
509.853.ARTS (2787) and 877.330.ARTS (2787)
10/29
7:30
Spokane
WA
INB Performing Arts Center
334 West Spokane Falls Boulevard, Spokane, WA, 99201
N/A
10/30
8:00
Everett
WA
Everett Civic Auditorium
2415 Colby Avenue, Everett, WA, 98201
N/A
11/5
8:00
Bellingham
WA
Mount Baker Theatre
104 N. Commercial Street, Bellingham, WA, 98225
360.734.6080
11/6
6:30 & 9:30
Tacoma
WA
Pantages Theater
901 Bdwy, Tacoma, WA, 98402
N/A
11/7 - 11/8
7th - 6:00 & 9:00
8th - 5:00
Olympia
WA
Washington Center for the Performing Arts
512 Washington St SE, Olympia, WA, 98501
360.753.8586
11/12 - 11/13
12th - 8:00
13th - 6:30 & 9:30
Bellevue
WA
Meydenbauer Center
11100 N.E. 6th St, Bellevue, WA, 98004
N/A
11/14 - 11/15
14th - 3:00, 6:00 & 9:00
15th - 2:00, 5:00 & 8:00
Bremerton
WA
Admiral Theatre
515 Pacific Avenue, Bremerton, WA, 98337
N/A
11/18 - 11/19
18th - 7:30, 19th - 7:30
Seattle
WA
McCaw Hall at Seattle Center
305 Harrison St, Seattle, WA, 98109
N/A
11/20 - 11/21
20th - 6:30 & 9:30
21st - 6:00 & 9:00
OREGON
Tigard
OR
Deb Fennell Auditorium, Tigard HS
9000 SW Durham Road, Tigard, OR, 97224
N/A
10/21
7:30
Corvallis
OR
OSU - LaSells Stewart Center, Austin Auditorium
875 SW 26th Street, Corvallis, OR, 97331
N/A
10/21
8:00
Salem
OR
Elsinore Theatre
170 High Street SE., Salem, OR, 97301
N/A
10/22
7:30
Eugene
OR
McDonald Theatre
1010 Willamette Street, Eugene, OR, 97402
N/A
10/22
6:00 & 9:00
Portland
OR
Arlene Schnitzer Concert Hall
1037 Southwest Broadway, Portland, OR, 97205
N/A
10/23 - 10/24
23rd - 8:00
24th - 6:00 & 9:00
CALIFORNIA
Walnut Creek
CA
Dean Lesher Regional Center for the Arts
1601 Civic Dr, Walnut Creek, CA, 94596
N/A
11/3 - 11/4
3rd - 8:00
4th - 6:00 & 9:00
Livermore
CA
Livermore Valley Performing Arts Center
2400 First St, Livermore, CA, 94550
925.373.6800
11/5
8:00
Mountain View
CA
Spartan Theatre at Mountain View High
3535 Truman Avenue, Mountain View, CA, 94040
N/A
11/6
6:30 & 9:30
Campbell
CA
Campbell Heritage Theatre
1 Campbell Avenue, Campbell, CA, 95008
408.866.2700
11/7
6:00 & 9:00
San Francisco
CA
Palace of Fine Arts
3301 Lyon Street, San Francisco, CA, 94123
N/A
11/10 - 11/11
10th - 8:00
11th - 8:00
Santa Rosa
CA
Wells Fargo Center for the Arts
50 Mark Springs Rd, Santa Rosa, CA, 95403
707.546.3600
11/12
8:00
Sacramento
CA
Crest Theatre
1013 K St, Sacramento, CA, 95814
800.225.2277
11/13 - 11/14
13th - 6:30 & 9:30
14th - 6:00 & 9:00
San Mateo
CA
Performing Arts Center
600 N. Delaware St, San Mateo, CA, 94401
N/A
11/15
7:00
Berkeley
CA
Wheeler Auditorium
101 Zellerbach Hall #4800 University of California, Berkeley, CA, 94720
510.642.9988
11/17 - 11/18
17th - 8:00
18th - 8:00
San Francisco
CA
Castro Theatre
429 Castro St, San Francisco, CA, 94114
N/A
11/19
8:00
Palo Alto
CA
Spangenberg Theatre
780 Arastradero Rd, Palo Alto, CA, 94306
N/A
11/20
8:00
San Rafael
CA
Marin Center
10 Ave of the Flags, San Rafael, CA, 94903
N/A
11/21
8:00
Pleasanton
CA
Amador Theater
1155 Santa Rita Rd, Pleasanton, CA, 94566
N/A
11/22
7:00
Santa Cruz
CA
Rio Theatre
1205 Soquel Avenue, Santa Cruz, CA, 95060
N/A
11/24 - 11/25
24th - 8:00
25th - 8:00
Irvine
CA
Irvine Barclay Theatre
4242 Campus Dr, Irvine, CA, 92612
949.854.4646
12/1
7:30
Santa Barbara
CA
Lobero Theatre
33 E Canon Perdido Street, Santa Barbara, CA, 93101
805.963.0761
12/2
8:00
Beverly Hills
CA
Writers Guild Theater
135 South Doheny Dr, Beverly Hills, CA, 90211
N/A
12/4
6:30 & 9:30
Torrance / Hermosa Beach
CA
James R. Armstrong Theatre
3330 N. Civic Center Drive, Torrance/Hermosa Beach, CA, 90503
310.781.7171
12/5
8:00
Newport Beach
CA
Lido Theatre
3459 Via Lido, Newport Beach, CA, 92663
N/A
12/9 - 12/10
9th - 8:00
10th - 8:00
Pasadena
CA
The Rialto Theatre
1023 Fair Oaks Avenue, South Pasadena, CA, 91030
N/A
12/11
8:00
Encinitas
CA
La Paloma Theatre
471 South Coast Highway 101, Encinitas, CA, 92024
N/A
12/2 - 12/3
2nd - 8:00
3rd - 8:00
La Jolla
CA
Museum of Contemporary Art San Diego
700 Prospect Street, La Jolla, CA, 92037
N/A
12/4 - 12/5
4th - 6:30 & 9:30
5th - 6:00 & 9:00
Carlsbad
CA
Village Theatre
2822 State St, Carlsbad, CA, 92008
N/A
12/6
4:00 & 7:00
UTAH
Salt Lake City
UT
Abravanel Hall
123 W South Temple, Salt Lake City, UT, 84101
801.355.ARTS (2787) and 888.451.ARTS
10/16 - 10/17
16th - 8:00
17th - 6:00 & 9:00
Ogden
UT
Peery's Egyptian Theater
2415 Washington Boulevard, Ogden, UT, 84401
801.689.8700
10/17
3:00, 6:00 & 9:00
Orem
UT
Xango Grand Theater at SCERA
745 South State Street, Orem, UT, 84058
801.225.ARTS (2787)
10/20 - 10/22
20th - 7.30
21st - 7:30
22nd - 7.30
Park City
UT
George S. and Delores Dore Eccles Center for the Performing Arts
1750 Kearns Boulevard Park City, UT, 84060
435.655.3114
10/23 - 10/24
23rd - 8:00
24th - 8:00
IDAHO
Sun Valley
ID
Sun Valley Opera House
1 Sun Valley Rd, Sun Valley, ID, 83353
10/28 - 10/29
28th - 6:00 & 9:00
29th - 6:00 & 9:00
Hailey
ID
Community Campus Theatre
1050 Fox Acres Rd, Hailey, ID, 83333
N/A
10/30
8:00
ARIZONA
| | | | | | | |
| --- | --- | --- | --- | --- | --- | --- |
| Scottsdale | AZ | Scottsdale Center for the Performing Arts | 7380 E. 2nd Street, Scottsdale, AZ, 85251 | 480.994.ARTS (2787) | 12/3 | 8:00 |
| Tempe | AZ | ASU - Gammage Auditorium | 1200 South Forest Avenue Arizona State University, Tempe, AZ, 85287 | 480.965.3434 | 12/4 | 8:00 |
| Tucson | AZ | Fox Theatre | 17 West Congress Street, Tucson, AZ, 85701 | 520.547.3040 | 12/5 | 8:00 |
| Phoenix | AZ | Orpheum Theatre | 203 West Adams Street, Phoenix, AZ, 85003 | 480.784.4444 and 602.262.7272 | 12/9 | 8:00 |
ALASKA
| | | | | | | |
| --- | --- | --- | --- | --- | --- | --- |
| Anchorage | AK | Alaska Center for the Performing Arts | 621 W 6th Ave, Anchorage, AK, 99501 | 907.263.ARTS (2787) | 10/27 | 6:00 & 9:00 |
COLORADO
Aspen
CO
Wheeler Opera House
320 East Hyman Ave, Aspen, CO, 81611
970.920.5770
10/22 - 10/24
22nd - 8:00
23rd - 6:30 & 9:30
24th - 6:00 & 9:00
Winter Park
CO
Silver Screen Cinema
78415 Highway 40, Winter Park, CO, 80482
970.726.8055
10/28
6:00 & 9:00
Steamboat
CO
Steamboat Grand
2300 Mount Werner Circle, Steamboat Springs, CO, 80487
970.879.0385
10/29 - 10/30
29th - 7:30
30th - 6:30 & 9:30
Boulder
CO
Boulder Theater
2032 14th Street, Boulder, CO, 80302
303.786.7030
11/3 - 11/8
3rd - 8:00
4th - 6:00 & 9:00
5th - 6:00 & 9:00
6th - 6:30 & 9:30
7th - 3:00, 6:00 & 9:00
8th - 2:00, 5:00 & 8:00
Denver
CO
Paramount Theatre
1631 Glenarm Ave, Denver, CO, 80202
866.461.6556
11/11 - 11/15
11th - 8:00
12th - 6:00 & 9:00
13th - 6:30 & 9:30
14th - 3:00, 6:00 & 9:00
15th - 2:00, 5:00 & 8:00
Littleton
CO
Columbine HS PA Auditorium
6201 South Pierce Street, Littleton, CO, 80123
N/A
11/18 - 11/19
18th - 7:30
19th - 7:30
Colorado Springs
CO
Pikes Peak Center
190 S. Cascade Ave, Colorado Springs, CO, 80903
719.520.SHOW (7469)
11/20 - 11/21
20th - 6:30 & 9:30
21st - 6:00 & 9:00
Pueblo
CO
Sangre de Cristo Center
210 N. Santa Fe Ave, Pueblo, CO, 81003
719.295.7222
11/22
4:00 & 7:00
Beaver Creek
CO
Vilar Performing Arts Center
68 Avondale Lane, Beaver Creek, CO, 81620
888.920.2787
11/27 - 11/28
27th - 9:30
28th - 6:00 & 9:00
WISCONSIN
| | | | | | | |
| --- | --- | --- | --- | --- | --- | --- |
| Milwaukee | WI | The Pabst Theater | 144 East Wells St, Milwaukee, WI, 53202 | 414.286.3205 | 10/22 | 8:00 |
| Madison | WI | Barrymore Theatre | 2090 Atwood Ave, Madison, WI, 53704 | 608.241.8633 | 10/23 | 8:00 |
ILLINOIS
Schaumburg
IL
Prairie Center for the Arts
201 Schaumburg Ct, Schaumburg, IL, 60193
N/A
10/28
7:30
Chicago
IL
Park West
322 West Armitage Rd., Chicago, IL, 60614
N/A
10/29 - 10/30
29th - 8:00
30th - 6:30 & 9:30
MINNESOTA
| | | | | | | |
| --- | --- | --- | --- | --- | --- | --- |
| Minneapolis | MN | State Theatre | 805 Hennipin Avenue, Minneapolis, MN, 55403 | 612.673.0404 | 10/24 | 6:00 & 9:00 |
MICHIGAN
Royal Oak
MI
Royal Oak Music Theatre
318 W. Fourth St, Royal Oak, MI, 48067
N/A
12/11 - 12/12
11th - 6:30 & 9:30
12th - 6:00 & 9:00
MASSACHUSETTS
Worcester
MA
Hanover Theatre for the Arts
2 Southbridge St, Worcester, MA, 01608
508.831.0800
11/5
8:00
Somerville
MA
Somerville Theatre
55 Davis Sq, Somerville, MA, 02144
N/A
11/11 - 11/12
11th - 7:00
12th - 7:00 & 10:00
Beverly
MA
Endicott College Auditorium
376 Hale Street, Beverly, MA, 01915
N/A
11/8
4:00 & 7:00
Boston
MA
Berklee Performance Center
136 Massachusetts Avenue, Boston, MA, 02115
N/A
11/13 - 11/14
13th - 6:30 & 9:30
14th - 6:00 & 9:00
Pittsfield
MA
The Colonial Theatre
111 South St, Pittsfield, MA, 01201
413.997.4444
11/19
6:00 & 9:00
NEW YORK
Binghamton
NY
Broome County Forum
One Stuart St, Binghamton, NY, 13901
607.778.6626
11/18
8:00
Albany
NY
Palace Theatre
19 Clinton Ave, Albany, NY, 12207
518.370.0304
11/20 - 11/21
20th - 8:00
21st - 6:00 & 9:00
Syracuse
NY
Landmark Theatre
362 South Salina St, Syracuse, NY, 13202
315.475.7980
12/3
8:00
Rochester
NY
The Auditorium Theater
885 E Main Street, Rochester, NY, 14605
800.745.3000
12/4
8:00
Buffalo
NY
Shea's Performing Arts Center
660 Main St, Buffalo, NY, 14202
800.745.3000
12/5
8:00
CONNECTICUT
| | | | | | | |
| --- | --- | --- | --- | --- | --- | --- |
| Hartford | CT | The Bushnell - Mortenson Hall | 166 Capitol Ave, Hartford, CT, 06126 | 860.987.5900 | 11/7 | 6:00 & 9:00 |
| Stamford | CT | Stamford Center for Arts - Palace Theatre | 61 Atlantic Street, Stamford, CT, 06901 | 203.762.8797 and 203.325.4466 | 11/13 | 8:00 |
NEW HAMPSHIRE
Keene
NH
Colonial Theatre
95 Main St, Keene, NH, 03431
603.352.2033
11/14
8:00
Portsmouth
NH
The Music Hall
28 Chestnut St, Portsmouth, NH, 03801
603.436.2400
11/23 - 11/25
23rd - 8.00
24th - 6:00 & 9:00
25th - 6:00 & 9:00
Lebanon
NH
Lebanon Opera House
51 North Park Street, Lebanon, NH, 03766
603.448.0400
11/24 - 11/25
24th - 6:00 & 9:00
25th - 8.00
MAINE
Portland
ME
Merrill Auditorium
20 Myrtle Street, Portland, ME, 04101
207.842.0800
11/11 - 11/12
11th - 7:30
12th - 7:30
RHODE ISLAND
Providence
RI
Avon Cinema
260 Thayer St, Providence, RI, 02906
N/A
11/18 - 11/19
18th - 8:00
19th - 6:00 & 9:00
VERMONT
Burlington
VT
Flynn Theatre
153 Main St, Burlington, VT, 05401
802.863.5966
11/21 - 11/22
21st - 6:00 & 9:00
22nd - 7:00